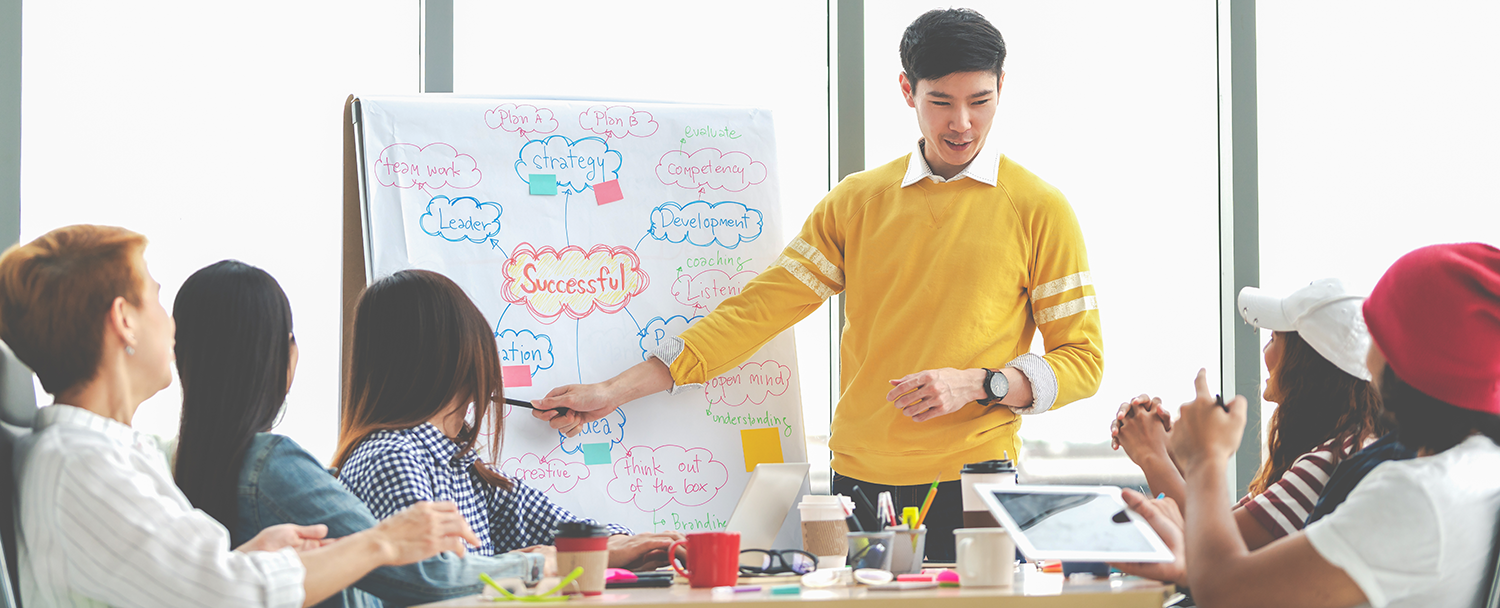 Grand Challenges
How do I know if this program is right for me?
They're looking for students who like solving challenging problems and are interested in making a difference. We want participants who are excited about participating in hands-on problem-solving in their first year in college, and who want to do more at Georgia Tech than just go to a lecture for four hours per day. If this sounds like you, you're in the right place.
What's required after my first year?
After your first year you'll continue with your project. Teams that are approved to continue are required to take a 1-hour course, GT 2201.
How will I engage with faculty?
The Grand Challenges Faculty Fellows are a cadre of faculty from all over campus who have coffee, lunch, and dinner with students. You can sign up to meet them and spend the semester getting to know them.
Can I participate in Grand Challenges and another Living-Learning Community?
Unfortunately, no. Each Living-Learning Community requires participating students to live in different residence halls, so students are not able to do more than one.
How much is the program fee?
Students pay $400 per semester in Grand Challenges.
How does the application process work?
Any accepted student to Georgia Tech may apply to Grand Challenges by completing the Living Learning Communities Application through their admission portal. We will read your essay looking for evidence of your interest in tackling big societal challenges and for evidence of dedication and passion in your activities. Early admission invitations to join Grand Challenges will begin in early March with final offers including regular admission by May 1st. Invited students must accept or decline the invitation at least by May 1st.
When do I need to accept or decline my invitation?
You will be given specific instructions on how to accept or decline in your invitation letter. For early action, we request that you respond by April 20th and for regular admits, by May 1st.
Will I still be a participant in the First -Year Experience program if I decide to do the Grand Challenges program?
Yes, you're still a member of the First-Year Experience program if you participate in Grand Challenges. As such, you'll have fantastic Peer Leaders (PLs) on your floor, opportunities to sign up for a meal plan, and access to the support and resources that the First-Year Experience program gives you.
What if I've already signed up for a dorm through housing?
No worries! When you decide to join Grand Challenges, we will work with housing to make sure that you are placed in Howell or Cloudman with everyone else.
What if I want to live somewhere else?
An important part of creating a living-learning community is developing connections and shared experiences outside of the classroom, so all Grand Challenges participants are required to live in Howell or Cloudman.
Can I still live with friends who aren't in the Grand Challenges?
Unfortunately, Howell and Cloudman is reserved for Grand Challenges participants only. Keep in mind that if you both live on East Campus, you will probably be within 400 yards of their dorm. If you think your friends might be interested in learning to solve the world's problems have them apply by the deadline, and we will take a look at their application.
Leadership Fellows
What are you looking for in a candidate?
The candidate requirements are as follows:
Commitment to leadership development growth of self and others
Willingness to commit as many as 4-5 hours per week to program activities
Be a Master's or Ph.D. student at the Georgia Institute of Technology
Have a cumulative G.P.A. of at least a 2.75 and be in good academic standing
It is important that the candidate has a passion for developing others and is relatable to others.
What is the length of the commitment for both coaches and undergraduates?
Coaches are asked to commit to a full academic year and will participate in two "rounds" of coaching – one round during the fall semester and one round during the spring semester of their commitment. Undergraduate and graduate students participate in coaching for only one semester at a time.
How many students do you expect in the program?
We expect to support a total of 165 Coachees in each semester through the Leadership Fellows program. Coachees vary in years at Tech from first year undergraduates to graduate students. All students are screened and selected through an application process.
How many students will each Fellow coach and what is the estimated time commitment per week?
Graduate students are expected to coach 4 Coachees per semester. Faculty/Staff can take from 1-2 Coachees and returning Fellows are expected to coach 1-2 Coachees per semester. The time commitment is 4-5 hours per week, plus (4) hour-long monthly meetings over the course of each semester. Optional leadership challenges and activities are planned as well.
Is there opportunity to renew in subsequent years?
Once a Leadership Fellow, always a Leadership Fellow. Fellows are encouraged to return as a volunteer Fellow for as long as they remain at Georgia Tech. Coaches are valuable resources and a source of inspiration for each new cohort of Coachees. We expect each returning Fellow to take on at least one coaching assignment during the academic year. Although there is no compensation for returning Fellows, they will have continued access to coaching resources, including an open invitation to participate in additional leadership training and events. We also ask returning Fellows to help us with the recruitment and training of each new class of Leadership Fellows.
How will the stipend (STUDENTS ONLY) work for international/domestic students?
The OHR website states that F-1 and J-1 students must maintain a full course load of study and that they can not work more than 20 hours per week during the term and up to 40 hours per week during vacation/holiday periods provided that they are enrolled in the next term of study.
Once fellows are chosen, the Leadership Fellows Program Staff will work with each individual (domestic and international) to ensure that all OHR requirements are met. Stipend payments are issued in two payments of $1,500 each ($3,000 total for the academic year). Disbursement dates are discussed at orientation.
What types of training will be provided to Fellows?
Program staff will conduct a Spring Orientation in April for selected Fellows prior to the upcoming academic year. Program staff will also conduct an intensive 2-Day Coaching Training Retreat and have on-going training sessions for Fellows throughout the academic year.
What is the difference between a coach and a mentor?
A coach is much more active than a mentor. They take a different stance within sessions in offering a critical review and real feedback about the undergraduate's leadership behavior and life choices. Coaching sessions are highly structured. Coaches will be working closely with undergraduate/graduate students to develop action plans based assessment results as well as ongoing leadership experiments.
Will a coach be matched up with a student in their field of study?
Prior to the Leading Edge Kick-Off each semester, Coachees are prompted to rank their selections for Coaches. We do our best to match them with one of their selections, however, we make a conscientious effort to ensure that all of our coaches have a diverse group of Coachees. The matching process typically takes 48 hours to complete.
How do I apply?
We accept applications for the upcoming academic year starting in February of the prior academic year. Visit our to Leadership Fellows program page to access the Leadership Fellows application
Note: Faculty/Staff application differs slightly from the student's application so please select the appropriate option.
Minor in Leadership Studies
Is there an application process?
There is an application process. The application is available online at the Minor in Leadership Studies webpage. You will be asked to enter information about yourself in addition to responses to prompts and questions. Application time should take 45-60 minutes.
Important: please have the answers for the questions written in a text/word editor, so that you may paste them in.
What are the eligibility requirements?
You must be a current student who has completed 30 credit hours at Georgia Tech. The GPA Requirement is a cumulative GPA of 2.5 or greater
What tracks are offered within the Minor in Leadership Studies?
Currently, we offer tracks in Business, Global Engineering Leadership, and Public Policy. Each of these tracks is offered through the Scheller College of Business, the School of Civil and Environmental Engineering and the School of Public Policy, respectively
What are the completion requirements and the respective timeline?
In order to complete the requirements for the minor, the student must take the PUBP 4140 Foundations of Leadership Course in addition to 3 courses (or 9 credit hours) within their respective track. The capstone project for the Business Track or the professional internship for the Global Engineering Leadership or Public Policy Track must also be completed. For the Global Engineering Track, the same requirements apply in addition to CEE 4803 Global Engineering Leadership and Management. Upon completion of all coursework requirements and one semester prior to the student's anticipated date of graduation, the minor petition form must be completed, and submitted to the registrar's office after having been approved by the student's major school and minor school (Scheller, CEE, or Ivan Allen). Details about required and elective courses and the minor petition form can be found at our Leadership Studies Minor page and at the School of Civil and Environmental Engineering Global Engineering Leadership Minor page.
When and where should we submit the Minor Petition form?
The Minor Petition form is your final checklist that you submit at the end of your Leadership Minor track and/or prior to your GT graduation. This will certify that you completed all the requirements for the program and will ensure that the designation will be added to your diploma upon graduation. Have your major department/school academic advisor sign it first (this is required to verify that you are not violating any double-counting requirement – and this is something you should specifically point out to your advisor as they might not be aware that you are planning to count some of the credits for a minor), and after obtaining their signature, please submit a scanned copy of the form to leadershipminor@gatech.edu for final review.
Is there a specific order that the classes must be taken?
If you are pursuing the Business or Public Policy tracks, we strongly recommend that you start your Leadership Minor studies with the PUBP 4140 Foundations of Leadership course, then take your 3 electives, and finish with MGT 4611 - Integrative Management Analysis or PUBP 4651- a policy oriented internship, or CEE4803- an international internship. If you are pursing the Global Engineering Track, we suggest that you complete CEE 4803: Global Engineering Leadership and Management and PUBP 4140 before taking your 3 electives. However, we understand that this might not work for all students, so there is no mandatory sequence requirement to complete your minor, with the exception that a student may not enroll in MGT 4611, PUBP 4651, or the CEE 4803 (Internship) course if they have not completed PUBP 4140 and at least 2 electives in their desired track.
In the Business track, how will the Integrative Management Analysis (MGT 4611) work?
The required MGT 4611 for the Business track of the Minor in Leadership Studies is designed to be a capstone course. Students will work on projects in teams of 3-5. While we try to ensure that these projects are broadly based on students' interests, a perfect match is not always possible. During this course you will have the opportunity to work with, and enhance the capacity of, Atlanta-based social enterprises (these could be nonprofits, hybrids, or for-profit organizations with a strong social mission).
You will work in highly interdisciplinary teams, and collaborate with key stakeholders at the organization that you are partnered with to design a 'context specific' business solution. You will also receive feedback from the course instructor through various project focused course assignments. The goal of these course deliverables and associated feedback is to formalize your learning experience, allow you to ask questions, and create meaningful opportunities for you to practice leadership.
What types of group activities are planned?
There will be several extracurricular opportunities for you (i.e. small-group conversations with eminent Atlanta business, social or alumni leaders who are part of our IMPACT Speaker Series or the Kenneth Hyatt Distinguished Alumni Leadership Speaker Series), or site visits to local nonprofits and social enterprises, speaker gatherings, conferences, case competitions etc. We will send out periodic announcements about these events by email. All students enrolled in the program are encouraged to take advantage of these opportunities as they will enhance your overall learning experience in the program as well as provide great opportunities for networking with leaders and hearing about their leadership journeys.
Will the capstone projects be related to the Business track or to our major?
The capstone course will be an opportunity to practice leadership by working on projects that improve the human condition and allow you to put your knowledge to practice, to solve real-life problems, and in the process create social value and develop new skills. We will do our best to create opportunities that all students will find meaningful, regardless of their major or the sector of the partner organization. Due to the interdisciplinary nature of the teams, you will be leveraging the training you receive as part of your major curriculum as well as all that you learned through your coursework in the minor and applying this to solving a real-life challenge.
What opportunities exist to study abroad in the Business track?
Current, we have a Central and Eastern Europe Study (Prague, Vienna, Budapest) Abroad program available for all Business track students. The experience typically runs from May to July each year. The courses included in this program include the following:
Business Fundamentals for Social Entrepreneurs (MGT 4803)
International Impact Forum (MGT 4192)
Integrative Management Analysis (MGT 4611 - Nonprofit Project Practicum)
For more information and to apply visit the Scheller College of Business website.
How will the internship impact my degree? Will I need to take a semester off to fulfill my internship?
The professional internship for the Public Policy and Global Engineering Leadership tracks can take any form, from a few hours a week up to an entire semester. The course is designed to be a 3 hour course within this program but can range from being 1.000 – 6.000 Credit hours and 1.000 to 6.000 Lecture Hours (or a full semester). You may fulfill this requirement any time of the year, Spring, Summer, or Fall, as long as you meet the requirements to start the internship. This internship will be an opportunity to practice and observe leadership in the workplace through allowing you to use all that you have learned in a real-world atmosphere. In your internship, we want you to aim to acquire new skills and learn meaningful information to put into practice with your leadership studies.
NOTE: Students are not be allowed to simply count previous internships towards this requirement.
What about GT's 36-hour rule? Does this apply to course work in the Minor as well?
GT policy states, "No student may be considered a candidate for a degree unless the final 36 credit hours required for the degree are earned in residence at GT and approved by the major school (GT General Catalogue, p. 394, Section XIII. B)". In other words, the last 36 hours of course work must be completed in residency at GT (unless you are studying abroad). This includes any courses applied to the degree or Minor. Often, if students have completed all or the majority of their course work at GT, they can Petition the Faculty to have the 36 hour rule waived.
What is the difference between the Minor in Leadership Studies | Business Track and The Steven A. Denning Technology & Management (T&M) program?
The Minor in Leadership Studies/Business track – offers a flexible path to completion ( although with a recommended order of electives and required courses) that focuses mainly on developing the students' understanding of leadership theory and providing a hands-on opportunity (through the capstone course) to work with a social sector organization on a project - in Atlanta (fall and spring) or in Central & Eastern Europe (summer).
The Steven A. Denning Technology & Management (T&M) is a program where students move through required courses as a cohort, have extensive support through the T&M staff, and are actively recruited by Corporate partners through the 2 years of the program. Some courses include leadership components, team work, and career development as well as a senior design project with one of the corporate partners.